16th February – Lazio – Inter – Correct Score Trading
Correct score market trades in Serie A often deliver green, so this time I decided to have a closer look at Lazio against Inter. Here is how it went!
I started, as always, by selecting a couple of target scores. I had a look at recent results of both teams and decided to go ahead with 2-1, 1-2, 2-2, 1-3 and 3-1 (6 points each) as I was expecting both teams to score. Lazio very strong at home (37 goals in 13 games) and Inter best away team in Serie A.
Now, it is key and very important to react and update your position in the market during the game. This is not set and forget and you need to watch the match!
I liked how Inter played in first half and my first decision was to lay both 0-0 and 1-0 at 7.00 odds (backer's stake 6 points each). This way, one goal scored by Inter would reduce my total liability by 40%. It proved to be a good decision as Ashley Young made it 0-1 in 44th minute.
I decided to let the trade run in second half and see what will happen.
In 50th minute Ciro Immobile made it 1-1 (Lazio was awarded a penalty) and another decision had to be made. Either let the trade run, leave the 18 points liability on 1-1 and hope for another goal OR play it safer and use some of green on 1-2 and 2-1 to clear red on 1-1.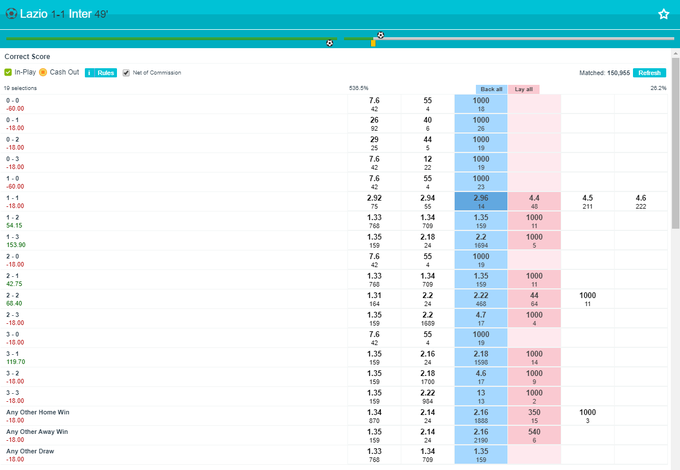 I decided to go ahead with option two and laid both 2-1 at 5 odds (9 points) and 1-2 at 5.9 odds (9 points). Note that this increased green on both 1-3 and 3-1 too!
In the end Lazio made it 2-1 in 69th minute and I decided to complete the trade by laying some green from 2-1, 2-2 and 3-1. My final position looked like this: