21st January – Chelsea – Arsenal – Correct Score Trading
This was a very interesting correct score market trade and I thought I would share the details with you guys.
So, I started this one by selecting five outcomes on the market and backing four of them (1-1, 2-1, 1-2, 2-2) for €6 each + laying two (Any Other Home Win, 1-0) – €6 backer's stake. My maximum liability was therefore ~€70 and best case scenario 2-2 where I had €94. I was hoping that Arsenal scores and 1-0 liability will be gone but instead DAvid Luiz was sent off in 26th minute and Jorginho made it 1-0 two minutes after that.
In general, red cards can ruin every trade and I had two options: 1) get out of the trade and accept the risk on AOHW 2) rebuild the trade. I decided to go ahead with option two. I laid 1-1, 2-1 and 2-0 thinking that Chelsea will score more goals. This move reduced by AOHW liability but I decided to take one more step and backed AOHW at 4.5 odds for €20.
I was looking at €40 loss on 2-0, €50 loss on 2-1 and €20 profit on AOHW. I had €10 loss on other scores beyond 2-0. 2-2 was not really layable and as you can imagine all my moves added profit to that score.
Martinelli unexpectedly made it 1-1 in 63rd minute but it was not the end of the story! Chelsea scored in 84th minute making it 2-1 and I was counting on 3-1 in the end to get that €10 loss (I was sitting on -50!). Instead Bellerin scored in 87th minute and I immediately laid 2-2 where I had a lot of green to work with: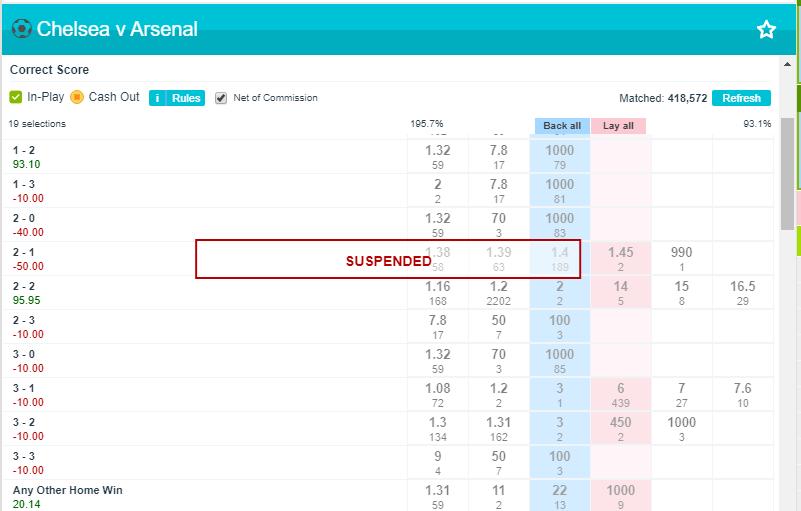 In the end I won €76 in this crazy trade as after laying 2-2 my profit was reduced.